Sebastian Gray Leads Seminar on ESOS
Posted on 23rd June 2015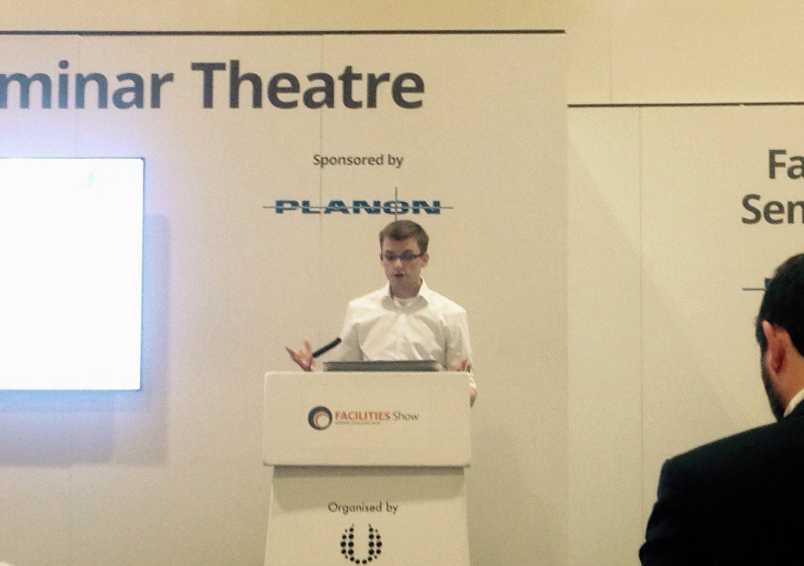 As one of the first CIBSE Registered ESOS Lead Assessors and a Director of 2EA®, Sebastian Gray was recently invited, with CIBSE, to lead a seminar at the Facilities Show at the Excel Centre in London.
During his presentation Sebastian was given the opportunity to share his knowledge and experience in the latest government energy initiative; the Energy Saving Opportunity Scheme (ESOS).
Sebastian covered the requirements of the participants undertaking ESOS assessments, explaining the steps that are needed to meet requirements, from planning to completion including topics such as; who must comply, what is expected of them and what fines and penalties apply to those that fail to comply or miss compliance deadlines. He then went on to break the process down into three simple steps.
Who must comply and what is expected?
You must comply with ESOS if you meet any of the following criteria:
You have 250 or more staff.
You have
You are part of a corporate group which includes a large undertaking as defined in either of the above.
As a participant of the Energy Savings Opportunity Scheme you are expected to:
Measure all your energy use for a continuous 12 month period.
Undertake audits covering all your main areas of energy consumption*.
Report your compliance to the environment agency by the compliance date.
*De-minimis of 10% allowed
Three simple steps
Sebastian broke the auditing and compliance process into three simple steps:
ESOS Data
The first step is to gather relevant data and engage management and directors before assigning a Lead Assessor to complete a scope and audit plan.
ESOS Audit
The second step is to undertake auditing of the specified areas classified in the scope and audit plan and identify any energy saving recommendations.
A report can then be compiled, which includes an identification of savings opportunities. This must be signed off by a specified Director and an ESOS Lead Assessor. The participant can then register their compliance with the Environment Agency.
Evidence Pack & Compliance
An evidence pack is produced that includes the following data:
ESOS qualification
Scope of participation
Corporate groupings and responsibilities for compliance
Calculation of total energy consumption/use of de-minimis
Selection of site auditors/lead assessors
Audit methodology/audit plan/audit reports
Evidence of sign off
Compliance checklist/voluntary disclosure questions
Record of compliance/record of communications
Key Takeaways
At the end of his talk Sebastian provided his audience with some key takeaways to help them on their route to compliance and avoid costly fines and penalties:
You must act soon to meet deadlines and avoid penalties
Board level engagement is a necessity
Staff engagement and training can provide easy wins
Consider this as an opportunity to save money in your business and not just as a "sign off" exercise
Look at it as a reputational driver
Choose your Lead Assessor carefully to match your business
Finally, plan for the future – this is only the first phase of ESOS
For a copy of the slides or to book Sebastian please contact on the email or phone number below. For other useful documentation, including an ESOS checklist that details the information that is required for an organisation to complete their ESOS audit, please visit 2EA's Document Library.
2EA® have two CIBSE registered UK ESOS Lead Assessors and offer three main ESOS management packages to help you meet the requirements of the Energy Savings Opportunity Scheme.
For more information please get in touch on 01293 521 350 or send us an email to info@2ea.co.uk.
Sign up to our newsletter or follow us in LinkedIn and Twitter for regular updates from 2EA®.