DECs and the Value of Setting Benchmarks
Posted on 20th April 2016
Tags:

Since their introduction over eight years ago, Display Energy Certificates (DECs) have helped to provide countless businesses with valuable information about their buildings energy consumption. In a recent article on the CIBSE Blog, CIBSE Research Associate in Energy Benchmarking Sung-Min Hong of University College London gives his thoughts on the value of DECs and their future.
What is a Display Energy Certificate?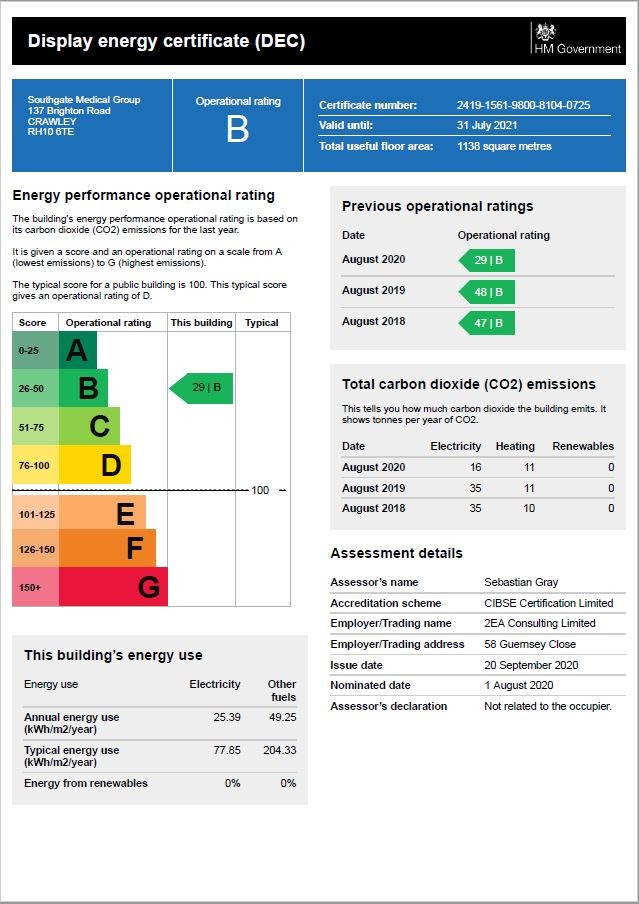 Display Energy Certificates were introduced by the British Government, in response to the EU Energy Performance of Buildings Directive, with the purpose of raising public awareness on energy use and encouraging improvements in a building's energy performance.
DECs provide a building with an energy rating of A to G; where A is very efficient and G is the least efficient. They are based on the actual amount of energy a building has used over the last 12 months and must be displayed prominently, in clear view of the public, at all times.
Each DEC must be accompanied by an Advisory Report (AR) which helps building owners and occupiers to improve their building's energy efficiency. A DEC, for a building greater than 1,000m2 is valid for one year and must be renewed accordingly. An AR is valid for seven years. For buildings between 250m2 and 1,000m2, both the DEC and Advisory Report are valid for 10 years. This gives building owners the opportunity to carry out the recommendations highlighted in their AR and work towards improving their DEC rating each year.
Providing Benchmarks
Since their introduction in 2008 Display Energy Certificates have helped businesses across the UK to improve their energy consumption, far beyond what one would expect from an eight year time frame.
CIBSE Research Associate in Energy Benchmarking Sung-Min Hong has recently given his views on how DECs have provided businesses with valuable benchmarks for their energy consumption, allowing them to even further improve their energy efficiency.
In an article for the CIBSE blog Sung-Min Hong talks about how the methodology behind DECs might be updated and how benchmarks, provided by DECs, have helped his research. During the article he refers to a consultation on the DEC scheme published in February 2015 that left him feeling unenthused after reading that some of the options mentioned for the future of DECs were to either 'do nothing or abolish' them, without the option to make improvements.
To see more of what Sung-Min Hong had to say on the matter head over to the CIBSE Blog to read the full article.
---
2EA® Limited offer a comprehensive DEC Management Package, with recognised auditing expertise along with follow-up training and staff engagement recommendations.
For further information please contact us either by email to info@2ea.co.uk or by calling 01293 521 350.