Growing Up Green
Posted on 3rd June 2014
Tags:
Businesses across all sectors are increasingly focussed on energy reduction; not only for the obvious cost saving benefits, but also in achieving their corporate social responsibility strategies.
But what about Schools?
Reducing energy use has many advantages for schools: it of course saves money and reduces carbon emissions but also improves the learning environment and can enhance a school's reputation.
In schools, the education of children about the different types and sources of energy, along with energy saving measures, is becoming more popular every year.
Indeed most schools now have an energy policy with input from pupils, governors and teaching staff, emphasis being placed on the inclusivity of all, as it allows pupils to translate general concerns about the environment into practical action within their schools.
Research has shown that where pupils are empowered to take action on energy, their attitude to other environmental issues becomes more positive. Education in energy reduction should be a requirement of all areas of the curriculum and should be incorporated into all subjects.
Many teachers already include energy reduction and carbon emissions in their normal schemes of work, even at primary level. Learning can be further enhanced if pupils can apply classroom theory to practical applications in real-world situations. The school and its energy systems can provide good examples of energy strategy and how that affects their comfort and facilities.
Getting Involved
To be really effective, the whole school must be involved in energy savings; by motivating staff and pupils through lessons, as well as providing practical advice on how to go about saving energy, a whole school approach can reduce the school's carbon footprint.
One of the best ways of getting the whole school involved is by holding a School Energy Saving Day. This engages both staff and pupils through such activities as games, quizzes and energy saving presentations: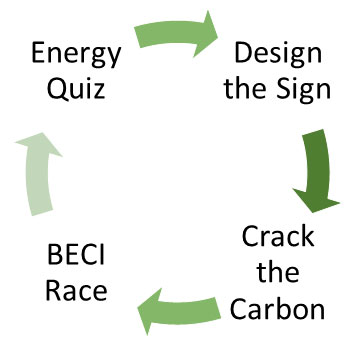 It gets everyone involved in understanding the importance of energy efficiency and how this can effect the environment and importantly how it can save the school money that could be spent elsewhere on educational materials and resources.
Energy Quiz: Covering energy saving and the environment; the aim of the quiz is to be educational and fun; a prize for the highest score!
Design the Sign: Pupils get to design a sign to remind everyone to switch off the lights; the winners design will be put up around the School!
Crack the Carbon: A short presentation on energy savings and the effects on the environment; lots of sounds and pictures to keep the pupils engaged!
BECI Race: What is a BECI and how does it work; followed by a race to see who can put up their BECI Stickers first, a prize for the first team back!
Continuing the Ideas
Why not appoint pupils as energy monitors? To switch off computers and lights as well as shutting doors and windows; this can also act as useful housekeeping several times a day. The 'Design the Sign' could become a term activity with the winner having their sign displayed for the entire term. Pupils can also be encouraged to produce their own classroom BECI's with an understanding of annual energy usage and how this is measured and calculated.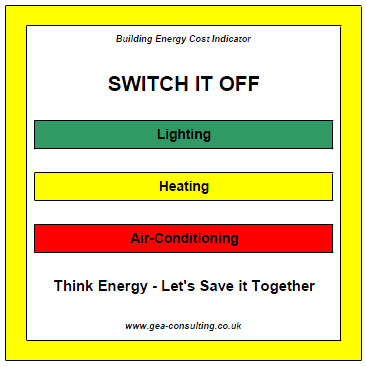 This can be further enhanced by providing the pupils with actual energy meter readings from gas and electricity meters. Reading meters, recording and analysing data provides an ideal opportunity for pupils to get involved in the understanding energy use and data handling.
If meters are not accessible, then ask the caretaker to provide meter readings for the class to use. Pupils can use spreadsheets, produce graphs and conduct analysis of results.
Display Energy Certificates (DEC)
The EU Directive on the energy performance of buildings requires many schools to publicly display their energy performance. All publicly funded buildings over 500m2 will have to put up a DEC in a public place showing their energy use on an A-G scale similar to domestic white goods.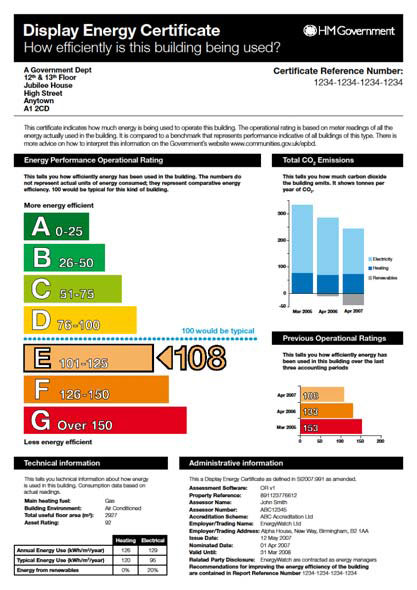 This allows schools to compare how their school is doing against other schools by use of a national benchmark, whilst the accompanying Advisory Report lists cost effective measures to improve the energy rating of their school.
Useful Resources
There are many free publications, websites and other resources available to help schools improve their energy efficiency and reduce their carbon footprint:
Sustainable Schools – A website that offers various publications and resources which can be found at: www.se-ed.co.uk/edu/sustainable-schools
Sustainable Learning – An energy and water management programme for schools and allows a school to manage its energy and water consumption using a whole school approach. To find out more and to register visit: www.sustainablelearning.info
Curriculum Support – The Centre for Research, Education and Training in Energy (CREATE) motivates and educates people in businesses, communities and schools to achieve more sustainable uses of energy and reduce carbon emissions. To find out more and to register visit: www.create.org.uk
Many of the utility companies provide dedicated curricular resources for schools. Further details can be found on their websites.
Other useful Websites
Eco-Schools is a European initiative to help schools become environmentally friendly in both the curriculum and the management of the school. The prestigious Eco-Schools flag is awarded to schools which meet the criteria. To find out more visit: www.eco-schools.org.uk