Looking after the Hospital – A Guide to Legislation
Posted on 8th June 2020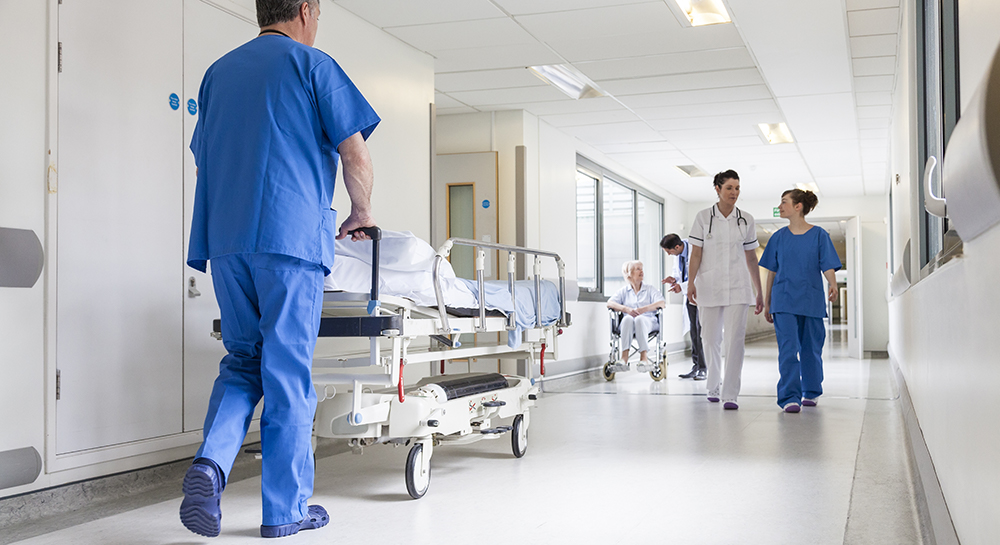 Trade figures based on data from September 2019, suggest there are a total of 1,277 hospitals in the United Kingdom; this includes both NHS Trust managed sites and private hospitals. Add on an extra twenty hospitals (the amount the government pledges to build) and that brings the potential total to 1,297 in the UK.
Within this article, we will break down the legislation that applies to hospitals along with any further opportunities hospitals can take to reduce or improve their energy performance.

The Medium Combustion Plant Directive (MCPD)
The MCPD is a piece of mandatory legislation that came into effect on 20th December 2018 for new combustion plants. Existing plants will need to comply by 2025 and 2030, depending upon their thermal input rating. The MCPD regulates and sets Emission Limits Values (ELVs) for combustion plants with a rated thermal input of between 1MW-50MW.
Existing plants rated with a thermal input above 5MW must be registered by 2025 and plants with a thermal input between 1MW & 5MW must be registered by 2030.
An organisation with any new combustion plant that meets these criteria must register and obtain a permit from the Environment Agency before standard operation can begin.
The MCPD will apply to all combustion plants with a rated thermal input equal to or greater than 1 MWth and less than 50 MWth regardless of the fuel type. An example of an MCP would be a boiler or a Combined Heat & Power (CHP) unit.
| Date | Definition |
| --- | --- |
| 20/12/2018 | New MCPs must be permitted, emissions tested within four months of permit issue and comply with Emission Limit Values (ELVs). |
| 01/01/2019 | Tranche B generators must be permitted and comply with standard permit conditions. |
| 01/01/2019 | Tranche A generators (5-50MW) with emissions above 500mg/m3 (@ 15% O2) which operate for more than 50h per annum must be permitted. |
| 01/01/2024 | Existing MCPs above 5MW must apply for a permit and test emissions within four months of permit issue. |
| 01/01/2025 | All existing plant above 5MW must comply with MCPD ELVs. Remaining Tranche A generators (5-50MW) must be permitted. |
| 01/01/2029 | Existing MCPs 5MW and below must apply for a permit and test emissions within four months of permit issue. |
| 01/01/2030 | Existing MCPs 5MW and below must comply with ELVs Tranche A 1-5MW and sub 1 MW generators must be permitted. |
Display Energy Certificates (DEC) & Energy Audits
A DEC and its accompanying advisory report provide a rating based on a building's operational performance. The completion and display of a DEC is mandatory for buildings occupied by public authorities, this includes hospitals.
If a building has a gross internal area (GIA) of more than 1,000m², then a new DEC is required every 12 months; the accompanying advisory report is, however, valid for seven years. Where a building has a GIA of between 250m² and 1,000m², then the DEC and advisory report is valid for 10 years.
The DEC must be produced by a certified DEC assessor who is registered with a professional body, such as CIBSE, providing an assurance of their competency for a public authority.
When a building operator appoints a new DEC assessor, they are required to attend site and carry out a DEC Assessment. This is also an ideal time to carry out a full energy audit of the building(s) and identify energy-saving opportunities.
Climate Change Levy (CCL) & CHPQA
Climate Change Levy (CCL) was introduced in 2001 under the Finance Act 2000 for non-domestic organisations. CCL is applied to electricity, gas, liquid petroleum gas (LPG) and other gaseous and solid fuels. Exemptions for supplies from certain renewable sources and Combined Heat and Power (CHP) may be applicable.
CCL appears on non-domestic electricity and gas bills and is applied at the time of supply on the energy used. CCL is calculated based on the amount of energy supplied and is charged by the supplier of the taxable energy commodity.
CCL is often shown as a separate line item on energy bills (usually above the VAT line) and is also VAT chargeable. It is charged at a flat rate on every kilowatt-hour (kWh) of energy used.
The rates of CCL were significantly increased from the 1st April 2019 to offset the loss of revenue from the closure of the Carbon Reduction Commitment (CRC) scheme.
Hospitals have been one of the sectors hardest hit by this increase and, based on actual energy consumption data, we identified that CCL costs for hospitals from the period 2018/2019 to 2019/2020 increased by 49% on average.
| Taxable Commodity | Rate From 1st April 2020 | Rate from 1st April 2021 | Rate from 1st April 2022 | Rate from 1st April 2023 |
| --- | --- | --- | --- | --- |
| Electricity (£/kWh) | £0.00811 | £0.00775 | £0.00775 | £0.00775 |
| Gas (£/kWh) | £0.00406 | £0.00465 | £0.00568 | £0.00672 |
| LPG (£/kg) | £0.02175 | £0.02175 | £0.02175 | £0.02175 |
By installing and operating a CHP unit, a hospital can apply for CCL relief on the gas used by the CHP unit after being registered with the Department of Business, Energy & Industrial Strategy (BEIS) CHP Quality Assurance (CHPQA) Programme.
The CHPQA Programme was introduced at the same time as CCL in 2001 and, like most government programmes, has developed tighter rules to ensure the programme works to its best abilities. The CHPQA Programme is a government-backed initiative that aims to provide a method for assessing all types and sizes of Combined Heat & Power (CHP) schemes throughout the UK.
Those hospitals operating CHP units could (and still can) obtain an exemption from CCL on the gas used by the CHP scheme by registering with the CHPQA programme. Good quality electricity produced by the CHP unit is also exempt from CCL.
Sustainability Reporting
Since 2011/2012, all public sector bodies are required to produce a sustainability report in accordance with the Government Financial Reporting Manual; this includes a discrete section in their Annual Report covering their performance on sustainability during the year.
Meters
To maintain registration under the CHPQA Programme, CHP heat and gas meters need to be verified every two (2) and four (4) years respectively. As stated in the CHPQA guidance:
"All meters that are used for self-assessment that are not independently calibrated by others (such as gas or electricity supply companies) should be regularly calibrated or validated in accordance with a calibration schedule."
To comply with the requirements laid down in CHPQA Guidance Notes, there is an obligation to ensure that heat and gas meters are regularly verified as working correctly.
Meter verification is an onsite procedure which ensures that heat delivered and gas consumed are being measured correctly. While not a full calibration which would require costly removal and transportation to a test facility, it is a cost-effective method of ensuring correct operation of the metering systems. On site verification ensures that the meters are operating correctly in their working environment. There is no impact on site operation and is not pipe-work intrusive.
A typical verification takes 1½-2 hours. Equipment that may be used would include a portable ultrasonic flowmeter, infra-red thermometer and laptop with download software. Following a successful verification, a certificate is issued which shows how the meters performed during the verification.
Staff Engagement
Ensuring staff understand the basic principles of the running cost of equipment, whether that be in a plant room or an office, is a fundamental part of ensuring a hospital's energy costs are kept low.
Any building, including hospitals, can have the best low energy specification equipment available, but if your staff do not know how to manage this equipment, it becomes moot.
The same goes for staff who are located in offices, GP Surgeries and other areas; if they do not understand the strategic cost of energy, then increases in consumption will be inevitable.
Example – Deep Fat Fryer Energy Consumption
Most hospitals with kitchen facilities will probably have a deep fat fryer; a commercial deep fat fryer takes on average 10-18 minutes to warm up. However, some kitchen staff turn it on when they arrive in the morning and leave it on for most of the day. We have seen this time and time again; so let's work out the costs:
A single commercial deep fat fryer is rated at around 3kW (but can go up to 9kW) and we will base our example on an average electricity price of £0.15/kWh.
So let's assume our chef comes in at 5.40am and turns the fryer on but does not use it until 7am; that has cost a total of £0.45 for turning the fryer on too early. Our chef now leaves the fryer on until 11am in preparation for lunch; that's another 3 hours, another £1.35. The fryer remains on for the afternoon, finally being used at 4pm for dinner; another 4 hours, another £1.80. That's £3.60 a day.
Now imagine our chef does that every day for the entire year. By leaving the deep fat fryer on, doing nothing but keeping the oil hot, could cost the hospital £1,314 a year.
The behaviour of staff and other users (students, patients, visitors etc.) and their awareness of energy costs play a key part in reducing energy consumption. It is estimated that up to 20% of total energy usage can be saved by adopting and maintaining best practice.
Undertaking an appropriate range of specific training and a broader awareness will contribute substantially to any plan to reduce energy consumption and environmental impact in general.
2EA Can Help Manage and Reduce Your Energy Consumption
2EA is an energy management consultancy firm that specialises in specific UK & EU legislation. With over 25 years experience, we work closely with clients in supermarkets & retail, hotels, leisure centres, hospitals, schools, research centres and other private and public sectors to help manage their energy consumption, save money and reduce their impact on the environment. For more information about how we can help your organisation, please get in touch.