Battle of the Grapes – Climate Change Vs Wine
Posted on 17th August 2022
Tags: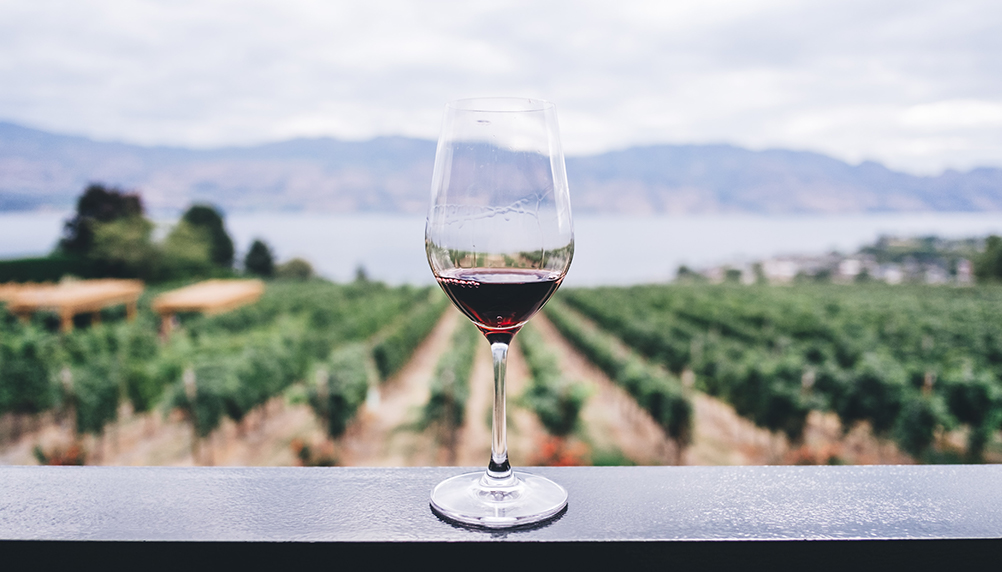 Whether you buy your wine from a supermarket, a specialist shop or have some stored in bond. The wine you buy in the future might be different in cost, taste and even grapes than what you may be used to today. Across the world there is a continual battle between wine producers and the climate. Here, we explore the impact the climate is having on the wine industry and how wine producers are tackling this growing issue by moving to more sustainable models.
The climate can be both a gift and a curse for wine producers. Any wine enthusiast knows that great vintages are produced when there are great climate conditions and poor vintages in poor climate conditions. For wine makers, climate change is a big threat; it can disrupt the speed at which grapes grow, when they can be harvested and it's not just high temperatures that are having an impact.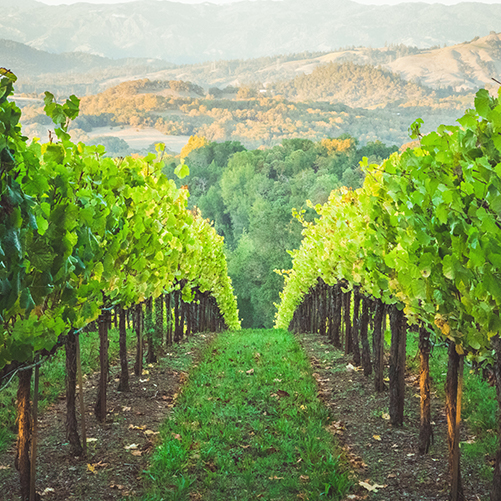 Growing Wine 101
In wine, the term 'terroir' refers to geology, landscape, soil and temperature. These factors determine the type of grape varieties (chardonnay, cabernet sauvignon, pinot noir etc.) that can be grown within a region. These factors can also shape the yield and quality of a harvest.
Vines Vs. Heat
When it comes to heat, grapes can be very sensitive. Under intense heat, grapes can ripen too fast and problems like bronzing can cause grapes to turn into raisins.
In places like Germany and the UK, where temperatures are getting warmer, they are able to produce more flavourful grapes and enjoy longer growing seasons. So much so that Champagne Taittinger announced a partnership with Hatch Mansfield, and private investors, to buy up 171 acres of farmland in Kent. This is the first time in history that a champagne house has invested in the UK. But, travel back to France, and the warmer temperatures, are having a negative impact on grapes causing them to produce more sugar and less acid.
In 2020, The Local, a French newspaper, interviewed a 68 year-old vineyard worker who had been working in the industry since the age of 17. He explained that when he was younger, he would harvest grapes in September, but now they harvest grapes on August 5th. The French environment minister put out a statement across France detailing that the average harvest was taking place eighteen days earlier than it was fourteen years ago. In Champagne, the grapes were harvested in August, the earliest ever recorded. In 2021, Champagne was effected even more by frost, storms, torrential rain, hail and disease. Particularly mildew and powdery mildew but also botrytis. Climate effects have not let up during 2022 either, with some growers harvesting in July.
Travel to the United States and places like Napa Valley in California are also witnessing the effects of climate change. 2020 saw devastating wildfires damaging around 26 wineries. One vineyard lost $5m worth of wine to what was known as the Glass Fire.
Cabernet Sauvignon, a world famous grape and the king of Napa Valley, is also starting to suffer the effects of a warmer climate. Some vineyards are now trailing grapes like Tempranillo and shiraz; grapes commonly found in Spain that can withstand rising temperatures.
---
Vines Vs. Cold
It's not just the heat that affects grapes, low temperatures can also have an impact. Frost can be deadly for vines and, in recent years, vineyards around the world have been battling frost even during the spring. To help deal with frost, vineyards often light thousands of buckets of fire to ward off the cold and warm the air around the vines. However, despite best efforts to stave off the cold, in April 2021, the frost in France wiped out 90% of the crops with an estimated loss of around €2bn.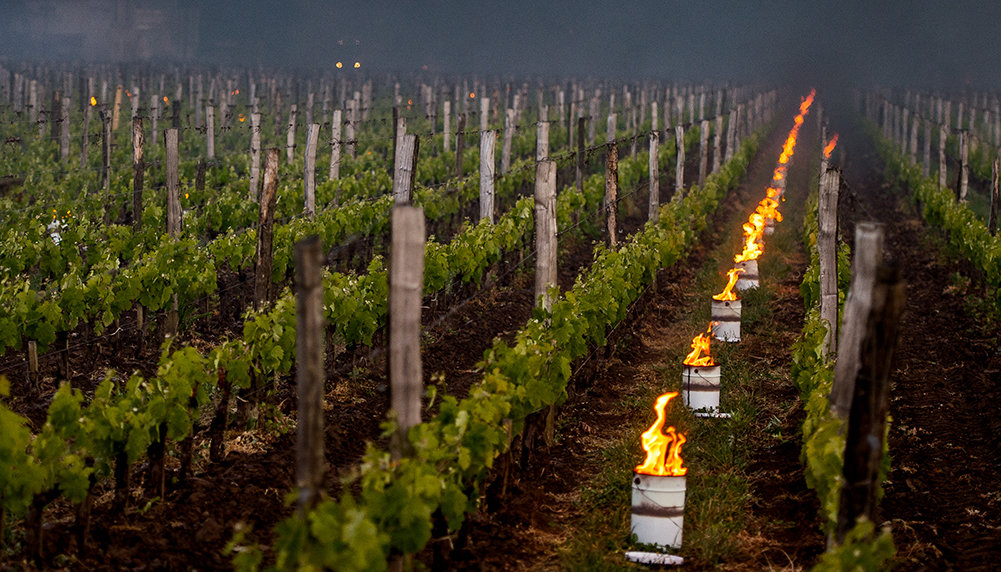 Wine and Technology
Technology is making great strides in the world of wine.
The Fraunhofer Institute for Process Engineering and Packaging IVV has launched the Smart Grape Project. This project uses infrared spectroscopy and AI to analyse grape quality and ripeness. It uses infrared radiation to provide data about the chemical composition of a sample. This non destructive technique identifies, with the help of AI, if the grapes meet the requirements to produce great wine.
Out in the fields, Vitibot is also capturing the heart of some classic Chateaus. The company has designed what they call electric straddle robots; autonomous machines that can deal with weeds and tilling the land. Vitibot's mission is to help wine producers face the economic, environmental and social challenges of growing wine.
Once the grapes are ready to harvest, some producers are deploying further technology such as the PELLENC. This is mainly to tackle the current labour shortages but with the poor weather conditions, it has saved on time and effort.
---
Where in the World?
If you had asked your grandparents what they thought of English wine, or specifically English sparkling wine, you would get some funny looks. Though wine has been produced in England dating back to the Romans, most of it was for communion. However, the temperature has developed so drastically over the last 30 years that England is now producing some award winning wines. So much so that in 2020 Champagne Taittinger announced a partnership with Hatch Mansfield and private investors, buying up 171 acres of farmland in Kent. 98 acres of this will be planted with Chardonnay, Pinot Noir and Pinot Meunier vines to produce premium English Sparkling Wine.
Across the south coast, from Kent to Dorset, vineyards have been popping up all over the place. This is due to the chalky white soil that is identical to the soil found in Champagne. However, up until recently, the climate was not good enough for wine makers to make use of the soil.
Travel across to mainland Europe and you will start seeing more vines planted in places like Norway, Sweden and Switzerland. Grapes in these regions are hybrids that are developed specifically for these cooler climates.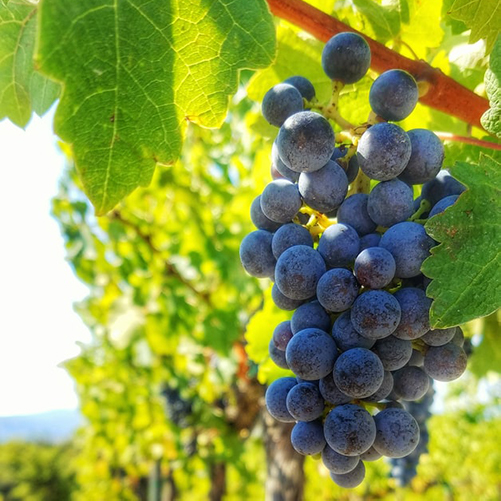 Hybrid Grapes
Hybrid grapes are produced by crossing two or more species. A good example is the Bacchus grape. You will find many vineyards in England producing Bacchus wine. This grape is a combination of Riesling, Sivaner and Muller-Thurgau. Because of its parentage, it is suitable for English vineyards.
Sustainable Wines
As the world moves to achieve net zero and target greenhouse gas (GHG) emissions, vineyards are focusing more on sustainable wines such as organic or biodynamic. The difference in these are:
Organic wine
Organic wine is made from grapes grown in accordance with principles of organic farming, which typically excludes the use of artificial chemical fertilisers, pesticides, fungicides and herbicides.
Biodynamic wines
Biodynamic wines are wines made by employing biodynamic methods both to grow the fruit and during the post-harvest processing. Biodynamic wine production uses organic farming methods (e.g. employing compost as fertiliser and avoiding most pesticides) while also employing soil supplements prepared according to Rudolf Steiner's formulas, following a planting calendar that depends upon astronomical configurations, and treating the earth as "a living and receptive organism".
---
Wine in a Can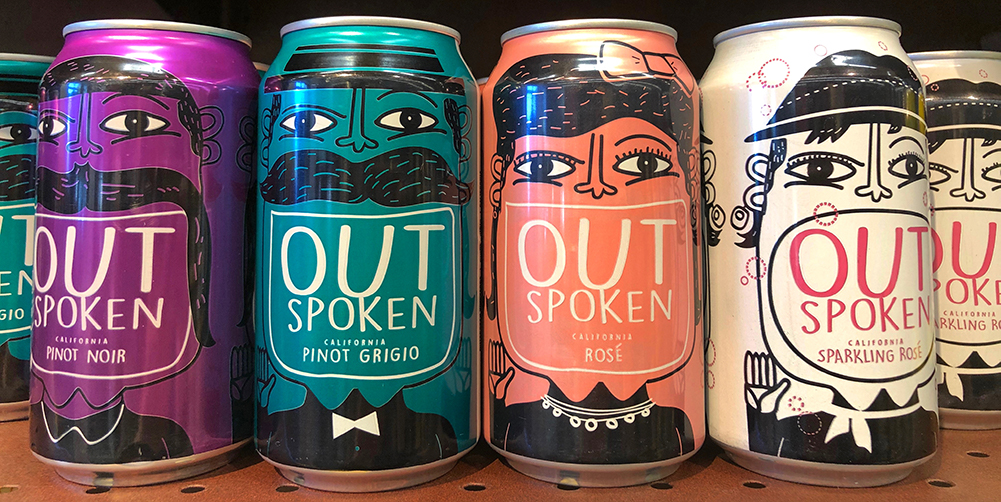 To reduce the industry's carbon footprint, much of the wine we see on the shelves in supermarkets is sent over to the UK in huge containers and then bottled in Avonmouth at a rate of 1,200 bottles per minute.
To old school wine enthusiasts, the idea of wine in a can could turn grapes sour but in the last few years it's a product that has taken off with great success. Around 72% of cans in the UK are recycled and aluminium has a higher recycling rate than glass, therefore, it makes sense for wine producers to enter a new market, given that cans have a lower carbon footprint than glass bottles. Plus, millennials are fans.
---
Wine Frozen for the Future
Should the world face a doomsday scenario, we can rest assured that the world's seeds are kept safely at the Svalbard Global Seed Vault.
A similar project is underway in France. Some of the world's biggest collection of vines are set to be frozen with hopes to revive them in the future. This is part of a conservation centre opened in October 2021 by the French National Institute for Research into Agriculture, Food and the Environment (Inrae). The aim is to protect the world's vine heritage, so if grapes that we have identified earlier in this article succumb to the effects of climate change, they can be revived and experienced by future generations.
---
Conclusion
As the climate changes, wine producers will need to adapt. European producers need to consider growing more resilient and diverse types of grapes such as more heat tolerant varieties from Sicily and Greece. They also need to lean on government and private businesses to do more to ensure the climates and temperatures they work in do not rise further. Otherwise your favourite bottle may no longer be available in years to come.