Day 3: Wildfires Continue to Rip Through Los Angeles
Posted on 7th December 2017
Tags: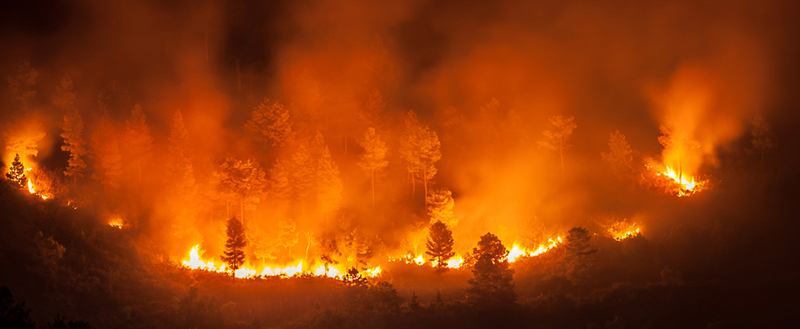 Earlier this year, several wildfires broke out across Los Angeles, and have returned stronger than ever just two months later.
On 5th December 2017, reports of more severe flames and smoke in Los Angeles forests were reported and have drastically intensified over the past 72 hours. Yesterday, voluntary evacuations were advised, however, an announcement was made only a few hours later letting residents know that they were upgraded to mandatory evacuations due to wind speed increasing, spreading the flames.
This came as no surprise as residents only had to look out of their windows to see burning trees and clouds of toxic smoke. Many freeways were also closed as the surrounding areas are still highly unsafe. As a result of this, further evacuations may be more difficult to carry out as some closed freeways carry up to 40,000 vehicles each day.
The Cause
The fires are believed to have started as a result of strong winds, reaching 80 mph, and dry conditions, similar to those that caused the wildfires that took place back in October 2017. Nearly 2,000 firefighters have been tackling the blaze over the last three days and fire officials have stated that they believe Climate Change has had a real impact in the number and intensity of recent wildfires. As well as this, officials declared that this years fire season was the worst in history, with this new outbreak becoming even more concerning.
The Effects So Far
So far over 200,000 Los Angeles and Ventura residents have been evacuated, with flames engulfing 90,000 acres by the evening of Wednesday 6th December, around 48 hours after the wildfire broke out. The Regional Air Quality Agency has also warned that the air in the active areas is a health hazard for those nearby which may have prompted the mandatory emergency evacuations.[1]
Other Impacts:
More than 300 properties, including homes and businesses, have been destroyed.
Hundreds of schools have been shut down.
Power has been cut for Universities.
Flames continue to spread and wind speed continues to pick up.
What's Next?
It is still unclear as to when the wildfires will calm or be extinguished but we can only hope it is as soon as possible.
As this is the most severe wildfire to take place in the U.S. this year, action must be put into place to lower global temperatures and reverse the negative effects of Climate Change. If this doesn't take place, more wildfires are predicted to break out and intensify due to higher temperatures, stronger winds and drier air.
---
2EA® are registered Low Carbon Energy Assessors, Consultants and ESOS Lead Assessors, offering both energy management and reduction services ranging from CCL/CHPQA Management to Energy Saving Opportunity Scheme (ESOS) and Carbon Reduction Commitment (CRC) consultancy.
For more information, please contact us either by email to info@2ea.co.uk or by calling 01293 521 350.
Sources: nytimes.com