ISO 50001:2018 – Final Draft Released – Whats in it?
Posted on 21st May 2018
ISO 50001 is an internationally recognised standard for Energy Management. It is recognised as the standard practice framework for managing your energy performance and addressing your energy costs, while also helping you to reduce your environmental impact and meet emissions reductions targets.
We, 2EA, have purchased the ISO/FDIS 50001:2018 edition that was released May 2018 and for the benefit of our clients and readers have summarised the main points and changes that organisations currently running, implementing or looking to implement ISO 50001 should be aware of.
It should be noted that with regards to ESOS, the ESOS legislation outlines the use of ISO 50001:2011 for routes to compliance for ESOS. Government and the Environment Agency have been and are aware of the change to ISO 50001:2018. However, no further proposals for these issues have been raised.
Please note that this is the final draft and not the final standard. We have included some of the main changes compared to the previous edition:
1. Adoption of ISO's requirements for management system standards, including a high level structure, identical core text, and common terms and definitions, to ensure a high level of compatibility with other management system standards;
The introduction of the High Level Structure (HLS), similar to other ISO such as 14001 and 9001 was the main focus of the new revision.
A new form of conformance or self declaration is added by seeking confirmation from third parties such as customers.
Within this revised version, they have clarified 'verbal forms'
"shall" indicates a requirement;
"should" indicates a recommendation;
"can" indicates a possibility or a capability;
"may" indicates a permission.
2. Supporting integration with strategic management processes;
Throughout the Leadership & Commitment of revised ISO. There is emphasis on ensuring that, throughout the process, things such as policy and objectives are compatible with the strategic direction of the organisation.
3. Change to the Plan – Do – Check – Act Cycle
As we compare the two PDCA cycles, we can see that they have made significant changes to the newer version.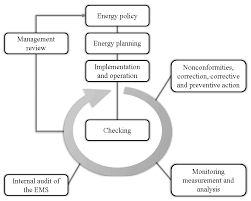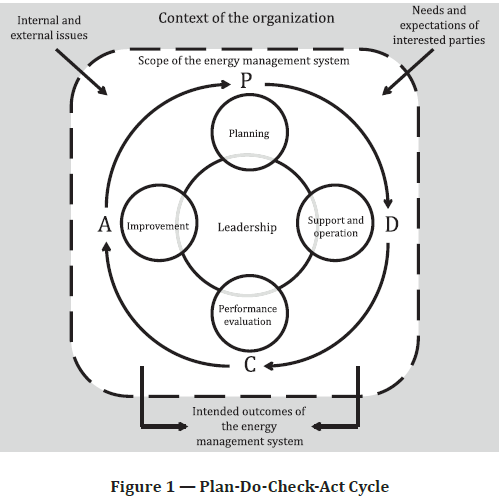 4. Stronger emphasis on the role of top management;
Within this new revision, they have emphasised the importance of cultural change. Something that was not mentioned in the previous version. Cultural and even behavioural change has started to take more a front seat role within the development of energy management.
Many of the past 'Top Management' sections have been replaced with 'Leadership'
Within 3.1.2 top management. Further notes have been added.
For example:
Note 2 to entry: If the scope of the management system (3.2.1) covers only part of an organization, then top management refers to those who direct and control that part of the organization.
5. Terms and definitions in Clause 3 have been updated and placed in context order;
We can that within this revision Clause 3 has had several notes added to it, along with some examples to help clarify the requirements of the standard,
For example, clearer clarification on what an organisation is has been added:
Note 1 to entry: The concept of organization includes, but is not limited to, sole-trader, company, corporation, firm, enterprise, authority, partnership, charity or institution, or part or combination thereof, whether incorporated or not, public or private.
6. Inclusion of new definitions including energy performance improvement and performance
Within the revision, performance has been added with a consideration of qualitative:
Note 1 to entry: Performance can relate either to quantitative or qualitative findings.
7. Normalization of energy performance indicators [EnPI(s)] and associated energy baselines [EnB(s)]
8. Addition of details on the energy data collection plan and related requirements (previously energy measurement plan);
9. Clarification of energy performance indicator (EnPI) and energy baseline (EnB) text to provide a better understanding of these concepts.
With the introduction of energy performance Improvement, EnPIs include:
The organization shall determine EnPI(s) that
b) enable the organization to demonstrate energy performance improvement.
10. Annexes
Within this revision. The annexe has a lot more informative guidance and figures for organisations
This revision has a table that shows correspondence of sections against the previous version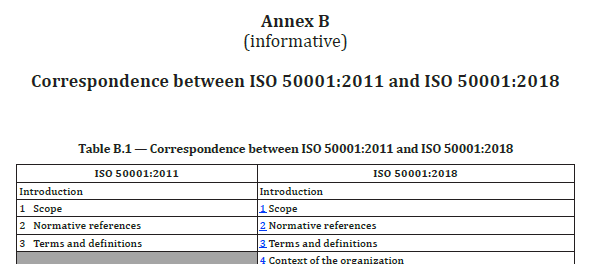 Summary
There are many changes within the newly revised version and they cannot all be included here but this revised version lays the foundations to a better understanding of what is needed in implementing ISO 50001:2018.
ISO 50001 is there to help you better manage your energy use. However, it is effectively a change management system that relies on senior people within the organisation taking a prominent and positive role in supporting and implementing this management system for the better of the organisation and their energy management.
---
2EA® are registered Low Carbon Energy Assessors, Consultants and ESOS Lead Assessors, offering both energy management and reduction services ranging from CCL/CHPQA Management to Energy Saving Opportunity Scheme (ESOS) and ISO 50001
For more information, please contact us either by email to info@2ea.co.uk or by calling 01293 521 350.